Natural rubber is obtained from the latex extracted from the bark of rubber trees by a process known as Rubber Tapping. Rubber Tapping is possible only when the bark of the tree is dry. So, proper rainguarding is necessary for uninterrupted tapping of trees during rainy season.The product is so designed as to fit on the rubber tree protecting tapping panel and latex collection cup from rain water.
The invention of Tapping Shade enabled rubber growers to tap their trees even on rainy days. Tapping Shade is fixed 6 inches above the tapping panel all around the tree so as to divert stemflow of water protecting tapping panel and bark area. It provides sufficient aeration to the tapping panel so that the chances for fungal growth is negligible. It also protects the latex collection cup fixed under tapping panel.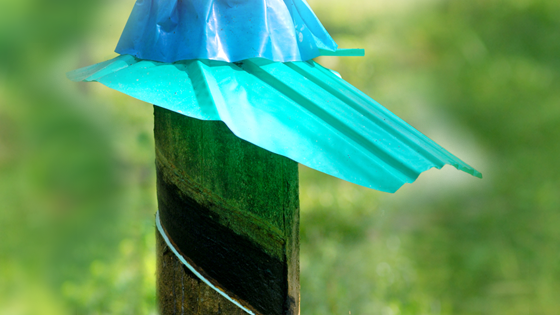 This ready to use plastic device can easily be fixed around the tree 15 cm.just above the panel . Since this is a reusable product, it is advisable to fix shade using staple pins just under a Top –Either a short skirt- like polyethylene sheet fixed around the tree using bitumen adhesive or Shade Tops which can also be fixed by applying bitumen adhesive. These methods help us to keep the Shade away from direct contact with bitumen adhesive and hence it can be reused for a few years.
---
Selection of Tapping Shade
Five different sizes of shades will cover trees of girth ranging from 17 inches to 42 inches.
TAPPING SHADE
| GIRTH OF TREES(INCHES) | TAPPING SHADE SIZE |
| --- | --- |
| 17-20 | SMALL |
| 20-24 | SPECIAL |
| 24-30 | MEDIUM |
| 30-36 | OVER |
| 36 AND ABOVE | LARGE |